Daily Devotions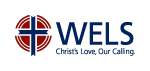 What shall we say, then? Shall we go on sinning so that grace may...
View More >
Welcome!

Our family of believers at St. Paul's Evangelical Lutheran Church and School
prays that through this site you encounter your Savior Jesus,
are strengthened by his grace and made confident to serve him with all thankfulness!
Please look around!
Sunday Worship Services: 8:00 & 10:30 a.m.
"Growing in the grace and knowledge of our Lord and Savior Jesus Christ.
To him be glory both now and forever! Amen."
( 2 Peter 3:18)
Midweek Advent Devotions
on Wednesdays
beginning Dec. 4
Services at 3:30 & 6:30pm
Super Served 4:30-6:00pm

Christmas for Kids:
Follow the Star!
Tuesday, Dec. 10
6:00-7:30 p.m.

Children's Christmas Service
Saturday, Dec. 14
at 6:30 p.m.